In the morning we arrive at Baddesley Clinton, a remarkable survivor of a medieval moated manor house, home to the Ferrers family for 500 years.
In 1940 the house was put up for sale, and bought by a distant cousin, Thomas Walker, who restored the house with the intention of passing it onto the National Trust. It was their son, Thomas Ferrers-Walker, who finally raised the funds to do this and the house was opened to the public in April 1982.
The gatehouse entrance makes Baddesley one of the most visually pleasing architectural ensembles in England, with its combination of bridge, moat and crenelated gatehouse and with its stonework and windows of several different periods.
National Trust volunteers will conduct a 'behind the scenes' tour for us, including a tour of the house itself, to include the great hall, constructed in the 1570s and dominated by a magnificent stone chimneypiece, the drawing room, chapel, library, and Henry Ferrers' bedroom.
A soup and sandwich lunch will be available at the end of the morning in the Barn Restaurant, if booked separately in advance.
Lord Leycester Hospital, Warwick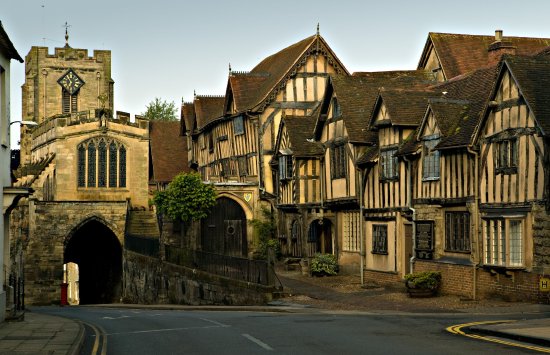 In the afternoon we visit this historic group of medieval timber-framed buildings on Warwick High Street, dating mainly from the late 14th Century. They represent one of the finest examples in Britain of medieval courtyard architecture. Clustered round the Norman gateway into the town, the 12th Century Chantry Chapel sits above it.
In the reign of Queen Elizabeth I the buildings became, under the patronage of Robert Dudley, Earl of Leicester, a place of retirement for old warriors who had fought in the Elizabethan era wars. These soldiers are known to this day as the Brethren and, with the Master, still live within the walls of the building.