Oxfordshire Past
(please note the new URL:
oahs.org.uk/oxpast
)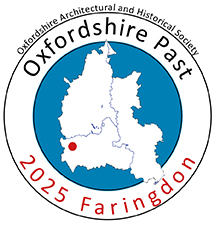 Oxfordshire Past this year took place online on Zoom. It was held on Saturday 12th June and included the 2021 OAHS Annual General Meeting and a series short talks providing an overview of work and research that has been carried out in the county over the last year. It was free to attend and was held online on Zoom, just as the lecture series has been over the last year. This enjoyable annual event in the Oxfordshire calendar is for anyone interested in local history, buildings and archaeology.
Programme
10.15 Registration, welcome and 'meet and greet' on Zoom.
10.30 AGM. All members welcome. The agenda and papers for the AGM are in the
Spring newsletter
.
11.00 Geoffrey Tyack, OAHS President: Introduction and welcome to Oxfordshire Past.
11.05 David Radford, Oxford City Planning Archaeologist: Recent archaeological work in the city of Oxford.
11.25 David Clark, Oxfordshire Buildings Record: Recent research on buildings around Oxfordshire.
11.45 Jacqueline Pitt, Oxfordshire HER: Round-up of recent archaeological work across Oxfordshire.
12.05 Simon Townley, Victoria County History: Update on recent work by the VCH.
12.20-12.30 Closing address, farewells and news on future events.
The OAHS committee hope that restrictions and the pandemic will have sufficiently subsided by the autumn. We are looking into the possibility of holding a larger Oxfordshire Past event in person later in the year. We will advertise any further events on the website, at OxPast 2021 and at the autumn lectures. In the meantime, we hope that you will be able to join us for this informative and rewarding event on 12th June.
---
Previous Oxfordshire Past events, locations and their co-hosts
13th May 1995
Kidlington, Exeter Hall
Kidlington Historical Society
1996
Wallingford, Centre 70
TWHAS
12th April 1997
Abingdon, Northcourt Centre
AAAHS
18th April 1998
Goring-on-Thames, Village Hall
SOAG
8th May 1999
Shipton under Wychwood
Wychwoods LHS, New Beaconsfield Hall
29th April 2000
Witney, Congregational Church
WHAS
12th May 2001
Benson, Village Hall
The Bensington Society
13th April 2002
Abingdon, Northcourt Centre
AAAHS
10th May 2003
Wallingford, Baptist Hall
TWHAS
22nd May 2004
Deddington, Windmill Centre
Deddington & District HS
7th May 2005
Eynsham, Village Hall
Eynsham HS
Programme
3rd June 2006
Bicester, Courtyard Centre
Bicester LHS
Programme
19th May 2007
Thame, Barns Centre
Thame Local History Society
7th June 2008
Blewbury
Blewbury Village Society
Programme
30th May 2009
Wallingford, Centre 70
TWHAS
Programme
5th June 2010
Benson, Village Hall
The Bensington Society
Programme
4th June 2011
Witney
W&DH&AS
9th June 2012
Henley, d:two Centre
Henley on Thames A&HG
1st June 2013
Kidlington, Exeter Hall
Kidlington Historical Society
Programme
31st May 2014
Woodstock Community Centre
Oxfordshire Museum, Woodstock
4th June 2015
Chipping Norton
Chipping Norton History Society and Museum
7th June 2016
Abingdon
AAAHS, Northcourt Centre
17th June 2017
Thame
Barns Centre
Programme
17th June 2018
Deddington
St Peter and St Paul Church
Programme
8th June 2019
Witney
The Corn Exchange
Programme
13th June 2020
Banbury
Museum
CANCELLED
12th June 2021
Online